Online Uttarakhand Employment Exchange Registration
Employment Exchange is a place where you register with your education qualification and after that, you get alerts about the job in your area. Its is very important for all us to register our name in Employment exchange. Sometimes for government jobs in Uttarakhand, employment exchange registration is mandatory.
If you are a resident of Uttarakhand and want to register yourself in the employment exchange center, then you can do this in two ways. First, you can directly visit the employment exchange office of your area with your required documents and can register there. Secondly, you can also apply online application for employment exchange.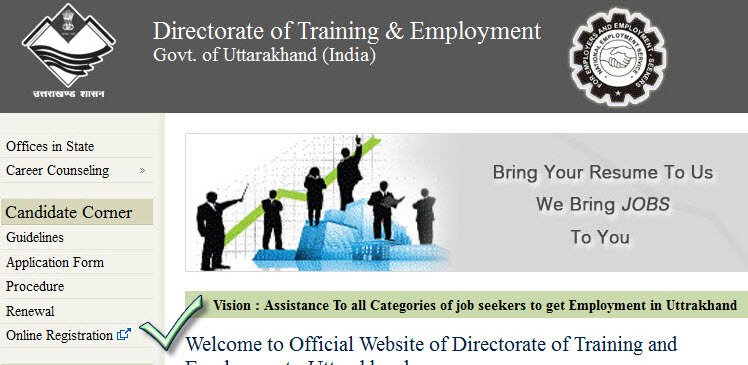 Steps to Register online for Employment Exchange in Uttarakhand
1. Visit Uttarakhand Rojgar Website and click on Online Registration.
2. Now in this portal click on Job Seeker Registration as shown below.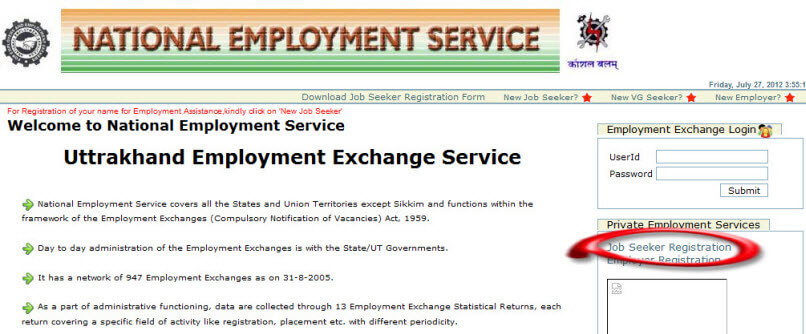 3. Now you will have to choose your district and after that fill the form which require your date of birth, education qualification, address, phone no., email etc.
4. After successful registration you get the registration ID, save it some where as it will be needed after words.
This online registration service is available for all the districts of Uttarakhand viz. Almora, Bageshwar, Nainital, Chamoli, Champawat, Dehradun, Haridwar, Pithoragarh, Pauri Garhwal, Rudra Prayag, Tehri Garhwal, Udham Singh Nagar and Uttarkashi.
Document needed at the time registration at Employment Exchange
If you are visiting employment exchange office of your area/city, then you will require below document.

1. Domicile certificate (Mandatory)
2. Cast certificate (If any)
3. Certificates regarding educational qualifications (Photo copy+original)
4. Photo
Download registration guidelines or if you face any problem while registering online, then you can ask help from us.